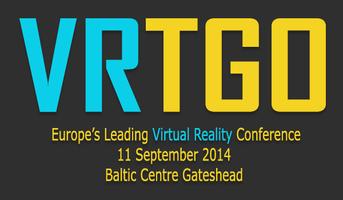 On September 11th 2014, the Baltic centre for contemporary art in North East England will play host to the largest Virtual Reality conference in Europe.
Featuring speakers from across the spectrum of VR, both software and hardware, Spearhead are thrilled to be joining the likes of Oculus, CCP and Sony Computer Entertainment Europe in taking to the stage to speak about the future of Virtual Reality.
Whilst a significant amount of the VR focus is currently on the entertainment industry, Spearhead are investing heavily in the medium to solve and provide better solutions to challenges faced by businesses and industry. Our talk is titled The Future of Business – A guide to the commercial real-time software and virtual reality sector.
As we know, the world we live in is constantly changing; as is the way businesses engage with their customers and their supply chain. It's a world of work that is being fundamentally re-shaped through globalisation, virtualisation and constantly evolving technologies such as mobile communication, cloud computing, social networks and big data analytics.
The founder of Spearhead, Dan Riley has spent the last seven years at the forefront of developments in virtual world and real-time 3D technologies; with a focused impetus on the creation of commercial software applications for corporates, educators and governments.
Our talk will provide a complete overview of keys aspects of the current real-time and virtual reality sector through the exploration of the technology and its many wide and varied applications outside of the gaming sphere. Join us on the journey as we describe why real-time is such a powerful medium when applied to real world problems and challenges and get a taster of what's to come in the virtual reality space as we outline our current hardware investments and introduce you to the future of business.
As well as a plethora of fantastic speakers (including the great folk at ZeroLight, AtomHawk, HammerHead and Vector76), VRTGO 2014 will be full of exhibitors ensuring that there are ample opportunities for attendees to experience the wonders of Virtual Reality for themselves.
Spearhead are delighted to announce that we will also be exhibiting at VRTGO 2014 and showcasing several of our commercial solutions throughout the day. Our team will be in attendance to guide you through applications we've developed for industries and sectors such as engineering, construction, architecture, offshore shipping and agriculture; all running on our Oculus Rift DK2 headsets which we'll have set up for you to try.
We're very much looking forward to travelling to Gateshead next month to take in the sights, connect with our peers from across the world, enjoy some fantastic keynote speakers and amaze as many of the attendees as we can. If you're planning on attending VRTGO 2014 then get in touch – we'd love to meet you.
Spearhead will be speaking at VRTGO 2014 at 4pm on September 11th. You can register to attend and purchase tickets for the event here.